Let's start with a little look back at our adolescence. We (Brendan & Jillian) met in 7th grade at Cocopah Middle School here in Scottsdale, AZ. We were friends throughout middle school and high school, and both of us went on to attend Arizona State University. It was our sophomore year at ASU when we began dating.
Brendan knew from a young age that he wanted to pursue a career in home building and construction. He graduated from ASU with a degree in Residential Construction Management and immediately immersed himself in the profession. His hands-on approach was key to learning the ins and outs of every aspect of home building, from developing the initial concept and architectural plans to finishes, electrical, plumbing, and everything in between.
Jillian, originally an early childhood educator, didn't initially anticipate becoming a home designer. Her role evolved from selecting finishes and contributing design ideas for Brendan's projects to leaving her teaching profession to work closely with Brendan and leading the Modern Nest Design team.
It was during that time of transition from teaching to designing full time that we experienced the loss of our precious daughter, Eva. Although her life was short, the profound impact she had on us as a couple and our community of family and friends was a very pivotal moment for us and the business. We found that working and spending our days together helped us through the grief and loss. It was during that time we grew closer as a couple and both began to excel in our roles within the business.
As our business grew in the years after, so did our family! We welcomed our son Grayson in 2014. A wonderful blessing after our loss. As we navigated the newborn stage, we continued to take on client remodels and several bank-owned flips.
In 2016, we completed and sold our Whitton Project, our first Modern Nest spec home. Because we focused more on client remodel projects and bank flips, Whitton was our first project where we got to have full control over the overall design, and thankfully, the home sold really quickly! During that time, our work started getting a little more attention and we were eager to begin the search for our next Modern Nest spec home.
Our Carol project was the next spec home we purchased. Our business was growing in terms of adding more people to our team, and the home was definitely catapulting us into the design world. We dreamt up ideas no one was really doing at that time, and although the selections were a little risky, we had confidence that it would all come together beautifully. At the time we were finishing up our Carol project, we welcomed our daughter Fallyn to the world. We were busy, to say the least. A growing business, toddlerhood, newborn life – it was crazy and chaotic and we loved every second of it.
Our Carol Project was another huge success for us in terms of our spec homes. We quickly sold that home, and with that came a ton of client work. We had so many amazing people reaching out to us, and it was so fun getting to expand in both areas of our business: our client work and our spec homes.
As we continued to design and build homes for our clients, we purchased our third spec home, our Modern Southwest Project. Again, as we continued to push the limits with design, this home was a place to take our ideas and really allow them to fly. With the real estate market growing and our team continuing to grow as well, the sky was the limit for this project. It was the largest (and highest budget) home we had taken on up to that point, and there was a lot of pressure to design the home in a way that was going to appeal to the real estate market but also allow our design abilities to shine.
Towards the completion of the Modern Southwest Project, we knew we wanted to open the doors of this home to our community. We were really excited about what we accomplished with this home, so we held our first ever open house event. Hundreds of people came through the doors of that home, and we loved being able to share our work with our family, friends, and those who supported us through social media.
After the Modern Southwest project, we purchased a lot in north Scottsdale and our Camino V. Project was the first spec home we built completely from the ground up. Unlike our previous spec homes (which were remodels with expansions), we designed every inch of this home exactly the way we wanted to. While we tirelessly thought through every single detail, we also got to have fun with a different aesthetic than we had designed in the past. Upon the completion of our Camino V. project, we held another open house event and, this time, created a fun pop-up shopping experience within the home. It was a fun way to bring other local small businesses together and our chance to share our newest home.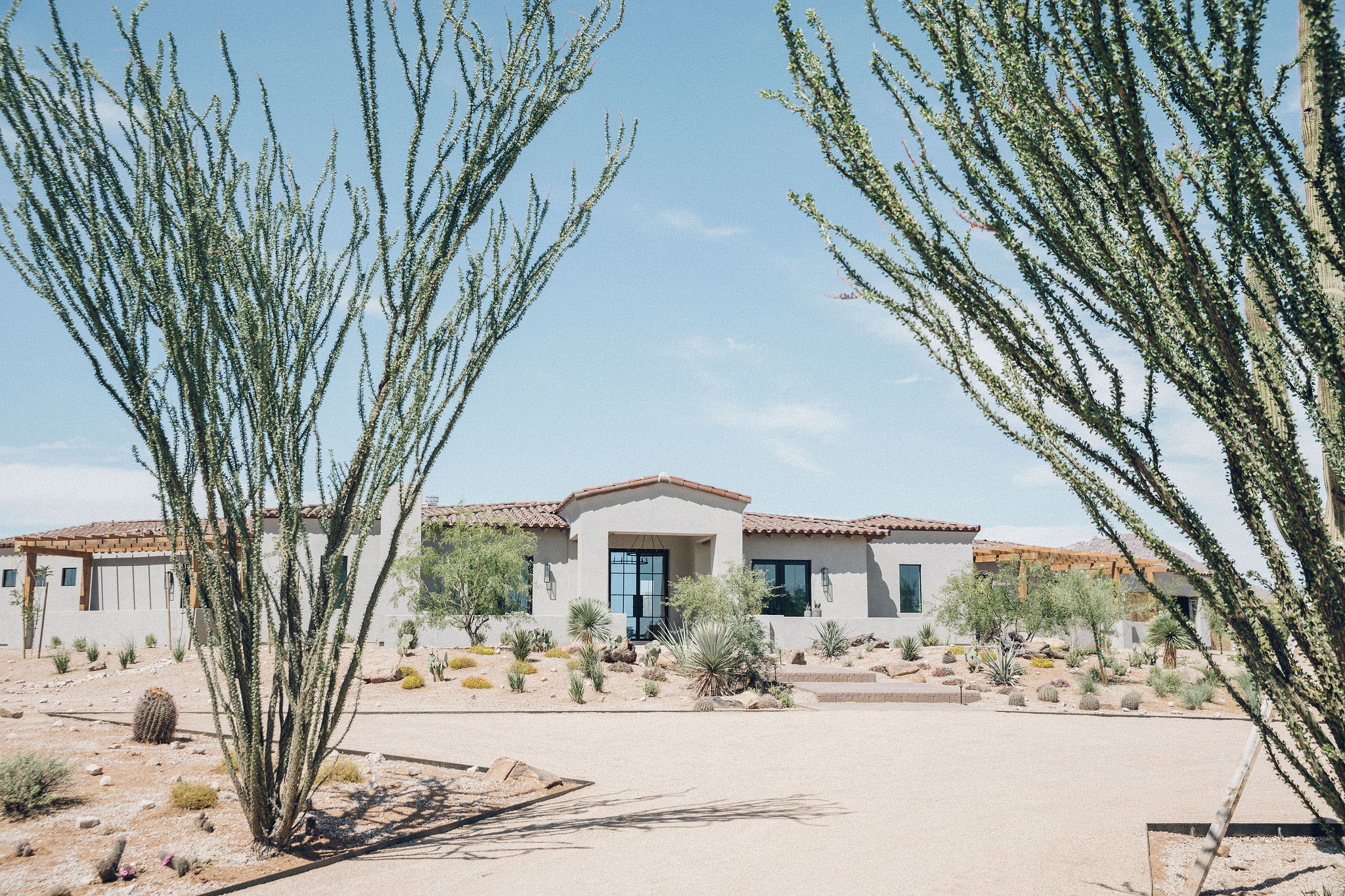 Shortly after the completion of our Camino V. Project, we realized the true need to be able to furnish and style our homes with items we truly loved. Until that point, we were going to other retailers and purchasing furniture and home decor items, none of which we felt completed our homes the way we wanted. We were filling spaces, but we were limited in so many ways. It was in late 2020 that we jumped head first into the retail world and opened the doors to our retail store, Market by Modern Nest, in Old Town Scottsdale. It took a strong team of talented individuals to expand our business into the retail space and we're so thankful for the hard work and dedication of our team.
In 2021 we finished our Tulum House Project. This spec home was the first home that we were able to have full architectural, design and build control from the very beginning. We pushed the limits architecturally with our own ideas, we raised the design bar real high, we furnished and styled every inch of the space with pieces from Market by Modern Nest and after all that was said and done, we opened the door to hundreds of people to come see our newest spec and shop the entire home. Literally, we turned the home into a massive showroom/retail shopping experience and it was one of the best milestones of our career. It took a very dedicated team to help achieve this goal and it was beyond our wildest dreams.
Next up for Modern Nest? Well, we are in the final stages of finishing our newest spec home, our English Country Project located in Paradise Valley, AZ (expected completion Fall 2022). We have another spec home, our Santa Fe Hacienda Project, following shortly after (expected completion early 2023), we are working on some really incredible client projects with amazing clients, we're growing our retail business online and we're adding to our team.
To look back at our story in this way has been emotional. We are beyond thankful for the journey thus far and we're so excited to see what the future holds. If you're still reading this, thank you. Thanks for being a part of our story.
Love,
Brendan & Jillian