Summer is officially in full swing, and we are enjoying all of the fun that comes with it. Dining al fresco with family and friends, spending time outside, and relaxing by the pool, are just a few of the things we love about summer. If you want to make sure your outdoor space is as functional as it is beautiful, choosing the right furniture pieces is key to embracing those longer days in style, all season long. We have put together a list of our favorite outdoor furniture pieces from our Summer State of Mind Outdoor Living Collection, that will help you create your very own outdoor paradise.
BETHANY OUTDOOR SOFA
The Bethany Outdoor Sofa features a washed brown teak frame that forms rounded corners for a streamlined look. Comfortably upholstered, this outdoor-friendly sofa style layers in with ease, for ultimate lounging. Cover or store inside during inclement weather.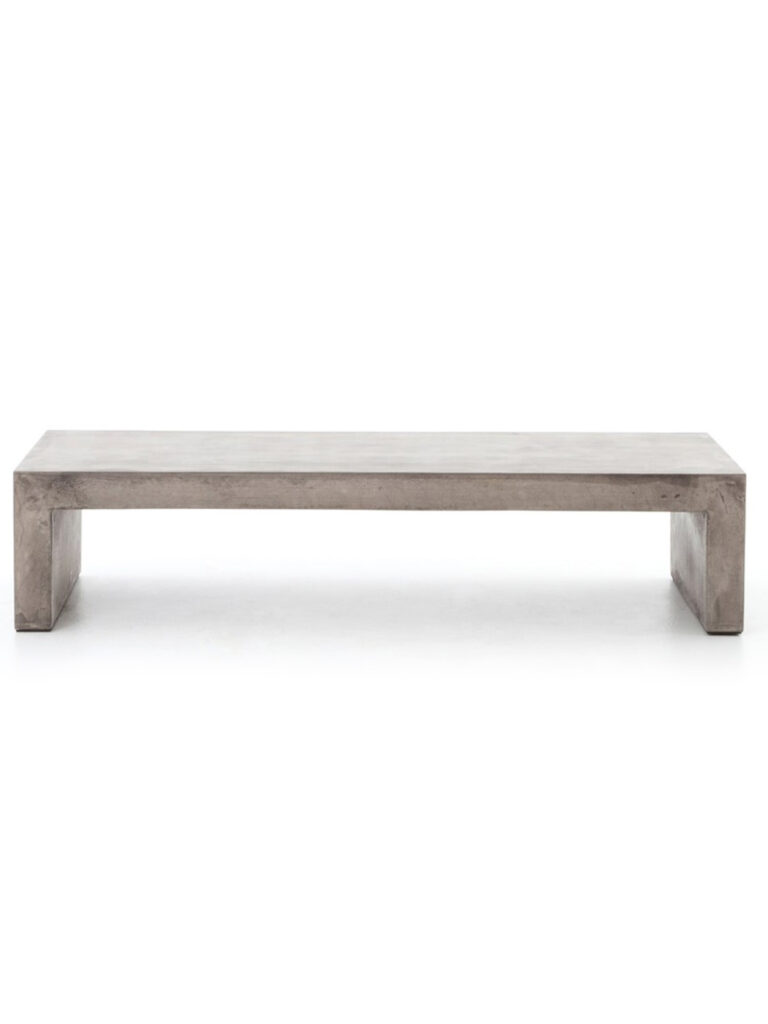 CLARKE COFFEE TABLE
The Clarke Coffee Table is made of a dark grey concrete in a smoothly refined shape with a waterfall edge. Both sleek and modern, this table is made for indoor or outdoor spaces. Combine two together for a larger table.
RUTH OUTDOOR ACCENT STOOL
Natural in texture and tone, the Ruth Outdoor Accent Stool has an all-weather wicker weave. It's soft round shape and earthy finish create a casual look with versatile appeal. Perfectly sized to bring an organic accent and extra layer to any space.
YUMA OUTDOOR DINING CHAIR
Sink into its softness and enjoy the ultimate seating experience while dining al fresco or lounging on your patio, with our Yuma Outdoor Dining Chair. The curvy design features a woven wicker frame that creates an effortlessly beautiful shape. The unique waterfall arm adds an extra touch of elegance and comfort. To ensure durability and relaxation, the Yuma Chair is equipped with cushioning in a versatile white color.
Brockbank Outdoor Dining Table
The Brockbank Outdoor Dining Table is a stylish and functional addition to your outdoor living space. This stunning dining table is designed to comfortably seat up to 10 people, making it ideal for hosting large gatherings and dinner parties. Crafted from solid teak wood, the Brockbank Outdoor Dining Table is designed to withstand the elements and resist fading, making it ideal for use in any outdoor environment.
Aileen Pendant
The rich finish on this rough luxe aluminum pendant is a hand-finished copper. It complements the antique brass hardware to bring this versatile dome-shaped pendant a feeling of true warmth.
berkley outdoor chaise
Transform your outdoor space into a haven of relaxation and beauty with our Berkley Outdoor Chaise. Built to last, and designed to withstand the elements, this lounger features cushions with a durable and comfortable fabric.
Merrick Outdoor End Table
The Merick Outdoor End Table is made of solid concrete and features a pitted, purposefully distressed finish. This organic table is perfect for layering in as a sturdy extra surface, indoors or out.
We hope you feel inspired to add pieces from our Summer State of Mind: Outdoor Living Collection, and live every day as if you are on a vacation in your very own home. Discover it now on Market by Modern Nest.
---
ACCESSORIZE THE SPACE